In the spotlight: Nova Coffee
Nova Coffee is one of the coffee exporters that is participating in the Rwanda Coffee stand at the Amsterdam Coffee Festival and is represented by Agnes Mukamushinja and Jean Marie Vianney Uwitonze.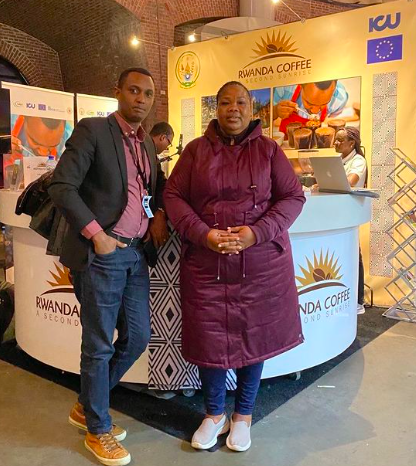 Nova Coffee grows specialty red Arabica Bourbon in the warm tropical sunlight and rich volcanic soils of northern Rwanda. Surrounded by native tropical rainforest, our 155-hectare coffee plantation of 380,000 trees, sits at an altitude of 1800-2000m high, spread across the mountainside and close to the beautiful Muhazi Lake.
Gender equity is one of their core values and they especially support their women farmers through their women-grown Arabica, marketed as "Cafe des Mamans". It is part of their drive to ensure that women and youth are fully supported and recognised for their vital roles in the coffee supply chain. Women are also key in building strong and resilient family and social structures in Rwanda.
Jean Marie Vianney Uwitonze was interviewed at the festival, check it out here:
Click here to follow Nova Coffee on Instagram.